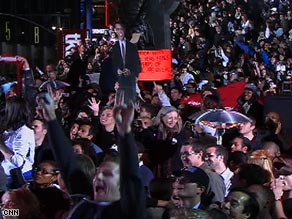 Around 11:00 last night, Smith College erupted in cheers and [happy] tears... and partial nudity from some.  I cannot begin to describe the feeling of excitement on campus, and I'm sure it's the same at colleges and in towns and cities across the country (even world?).  To celebrate, I have two mixes that a couple of DJs released last week.  
The first is a full hour and is really beautiful.  It's by Z-trip who has done political mixes before, including For Those About to Vote (for the 2004 election).  He also has a sick remix of I Want You Back by The Jackson 5.  But all that aside, this is a nice not-so-little ditty that will make you very very happy to be in America right now.

The second is a shorter mix and is a more traditional hip-hop mixtape.  I think I like it even more. It's a bit more fun, I suppose. And it ends with Black President by Nas, which I fucking love.